How to clean a stainless steel sink (with video)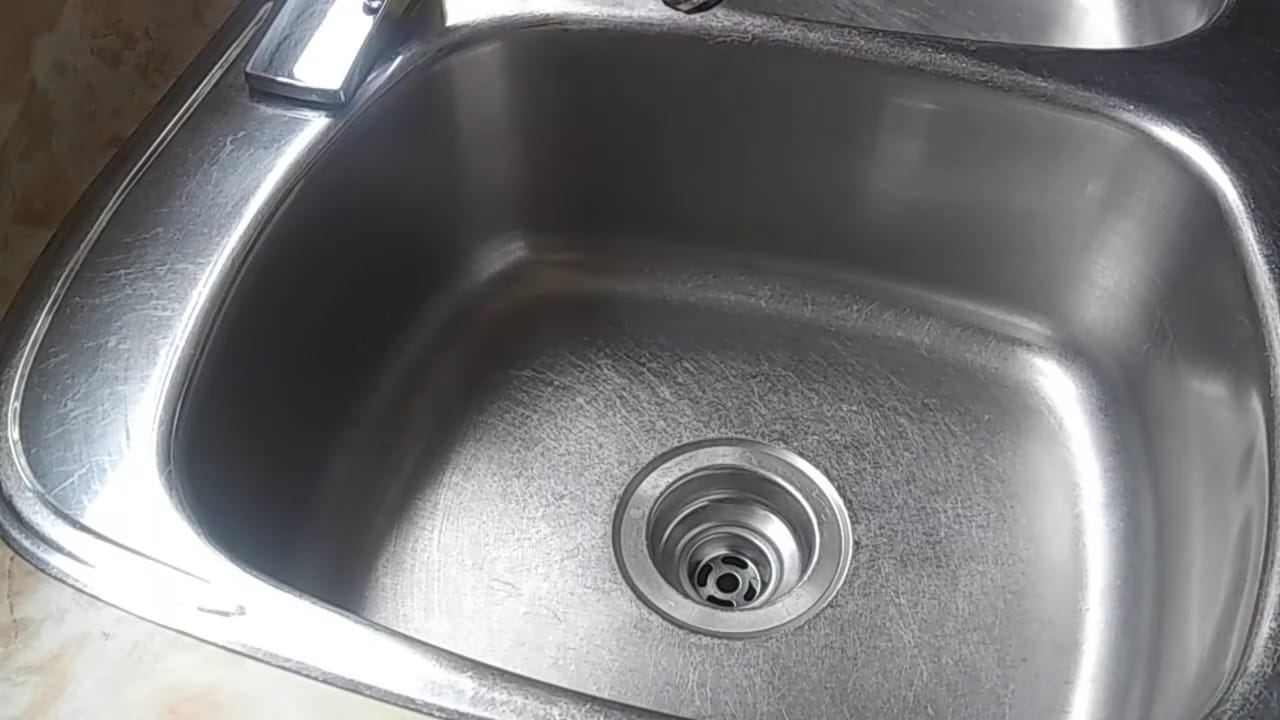 The longer we let minor cleaning tasks get away from us, the more it seems like something impossible to tackle or fix. It's ok, we all do it! There are probably a million minor things that need attention in our kitchen but for now,
Let's take a look at our sinks
Our video "How to Clean a Stainless Steel Sink" demonstrates our approach to polishing a sink to a high gleam; the exact same method and materials can be used on composite and porcelain sinks. Always remember to spot test first, read the manufacturer's instructions, and do not use anything abrasive. If you stray, you may damage something.
Build up in sinks can look like water stains, dark staining, streaks, brown staining or build-up (often from coffee), grease build-up, and even rust staining. White porcelain sinks tend to have scuffs or marks of other varieties as well…don't worry – we got this.
Key to understanding surface cleaning is this: a flat smooth surface is not exactly flat and smooth. Micro sized pores, grooves, or lines are present on everything (in my opinion). So, spray and wipe doesn't always work. Neither does a scrub pad! If the micro surfaces of the tool or product you are using to clean is bigger than that of the target surface, you will either have no luck with stains, or will only get a portion of a stain removed.
Ok, now you need to know the key tools for this arena of surfaces: micro-fiber cloths. Microfiber. Fiber de micro. Not a dishcloth, not a J cloth. My favorite are HDX Microfiber Cloths. Notice how everything is micro? Also, non-scratch!
Next, we use a non-scratch cleaning powder. Heads up, borax, baking soda, and washing soda ARE NOT non-scratch. I have tested them all several times. An easy to find, and apparently "green" product is Comet Pure Home. This is not the product we use (sorry, it's a minor secret and it is difficult to find). Going along with our theme, some powder cleaners are non-scratch and non-abrasive, which Comet claims this product to be.
Your final ingredient is water (or a non-toxic all purpose cleaner).
8 simple steps to a shiny sink
– Sprinkle enough powder in the bottom of the sink to cover about 50% of it (you can always add more).
– Spritz a little non-toxic cleaning spray or just water into the sink, enough to make it pasty when you get started. There is no science to this, adjust as needed.
– Take your microfiber cloth and vigorously (I always say the nerdiest things, including "clean it like you mean it") rub the paste throughout the sink.
– Go side to side, up and down, and in circles.
– Focus on every square inch of the sink including the lower corners, the edge between double sinks, the edge or lip of the counter if applicable, and specifically on noticeable stains.
– Use your finger or thumb, held inside the cloth that is now coated with powder/paste (you can add more liquid as needed, you will rarely need to add powder even when it starts to look nasty) and detail clean the drain area. You can easily remove all of the brown stainings from that area.
– The harder and more thoroughly you scrub, the better!
– Rinse the sink well, then spritz with your cleaner again and polish until it is dry with a clean dry cloth.
If any stains remain, repeat. You can also use the same process on the tap (more gently though). I have only seen one sink in the past that was damaged beyond repair, so I hope this method returns your sink to gleaming glory!
Side note, if you want to use baking soda, you can. Just remember that I advised against it (more delicate surfaces, such as the chrome on the tap, will scratch). Also, the powder works WAYYY better.
We have used various oils in composite sinks to make them look lively again. I have not found the store recommended products work very well in either cleaning or maintaining them, so let us know if you have had a better experience. I always say you should not use a product on a surface that it is not intended for, but in this case, we have had good luck and no negative effects using a simple lemon furniture polish (Old English Furniture Polish). This can be used after cleaning to coat the sink (composite sinks only) and make it look nice again. Alas, this product is not eco-friendly so we do not carry it in our kits. If you know about a green furniture oil, PLEASE share!
Happy vigorous scrubbing people!
Jen
CEO and Owner
Queendom Cleaning Ltd.